LUKÁŠ POHŮNEK – CONDUCTING (Miniprofile)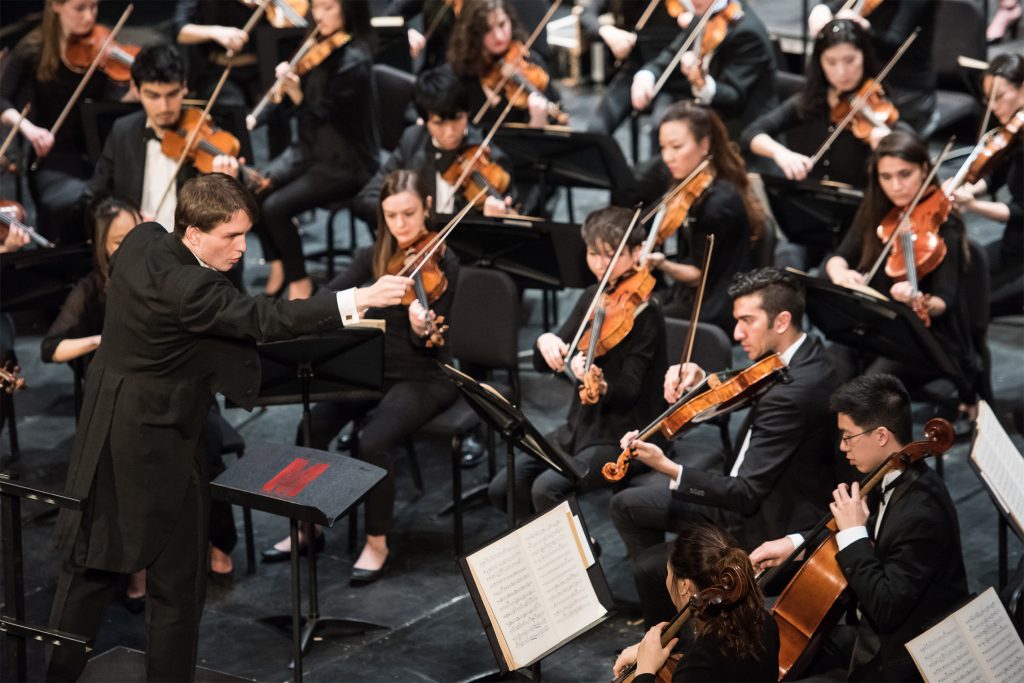 An interview by Lýdia Dohnalová  for slovak music magazine Hudobný život.
Original post is available at https://hc.sk/hudobny-zivot/clanok/rozhovory/821-lukas-pohunek-dirigovanie/
Your career has clearly been influenced by the fact that you come from a musical family. Have you ever doubted that you made the right choice? 
I have no doubt that it was the right choice. Of course it wasn't the only choice I could have made. However, the environment you grow up in influences you from early childhood and shapes your future career. I have often wondered what direction I would have gone in had it not been music.
Following after your father you studied the trumpet. Why did you later change your mind and choose the far more difficult profession of conducting? 
As a tactic to avoid disturbing the neighbours… (Laughter.) I still play the trumpet – when time allows – both as a soloist and as an orchestra player. But when I was studying at the Conservatory in Žilina, I started to feel that creating music as a soloist or orchestra player wasn't fulfilling me to the extent that I wanted to pursue it as a lifelong vocation. I felt the need to be involved with the piece of music as a whole and you can only do that if you are the conductor.
What swayed you when making the decision? 
My first public performance as the conductor of an orchestra. I can still remember it vividly – it was the moment I fully understood myself and felt that I had found the path in life I had been searching for. Conducting opened up a whole new and previously unknown way of thinking for me and a new spiritual world as well. Then it basically took off on its own accord: I prepared for my studies as a conductor under Leoš Svárovský and within two years I had become his student at AMU, the Academy of Performing Arts, in Prague.
What do you think is most important for a conductor? 
Conducting is by and large about the psychology because it involves working with people. Communication is the most important thing and everything else comes second. So long as the relationship between the orchestra and the conductor works and is harmonic, everything else seems to follow on its own. In this respect I think what's most important for a conductor is his ability to understand the character of the orchestra and work with it effectively.
You work as an independent professional. Which specialisation would you choose – symphony, chamber music or musical dramatics? 
I cast myself as a symphony and opera conductor. That's been the case since I studied in Prague when I came into close contact with a number of operas and studied them as part of my opera course at AMU. We put on a number of successful performances that were received positively by Czech critics and some of them are still performed today. This combination suits me – for me the worlds of symphony and opera have really always complemented one other.
I have heard you conduct various pieces that differ greatly in style and epoch. Do you have a favourite period? 
I would say that I prefer 20th century symphonic works that have neo-folk and neo-classicist elements, and most recently I have been working on 21st century pieces as well. At the moment, though, I'm particularly keen on German symphonic music and Richard Wagner's operatic work. No doubt this is linked to the fact that last year Prof. Kurt Masur, an icon in German classical music, took me deeper into this area. Following his recent death, his ideas have been resonating within me even more strongly than before and inspiring me to produce new creative work and take on new challenges. In addition, I also have a long-standing interest in Slovak and Czech music, especially the work of Eugen Suchoň, Ján Cikker, Antonín Dvořák and Leoš Janáček. A special hobby of mine is film music: it offers a wide range of sounds that are compatible with the music traditionally associated with a symphonic orchestra and, above all, the interpreters have wide-ranging imaginations.
What's coming up next and what would you like to achieve? 
This season we have a number of collaborations planned with Žilina State Chamber Orchestra – Slovak Sinfonietta. Following last year's debut with the Košice State Philharmonic and the Zielona Góra State Philharmonic from Poland, this spring we are looking forward to working together again. In April, as part of the European "Europa Season", we will be performing Slovak music at the Oltenia State Philharmonic in Craiova, Romania, and then, in January 2018, I will be making my debut with the Slovak Philharmonic. My greatest desire is still to learn and perform music with even greater enthusiasm and dedication because it is a medium, a universal language and a means of understanding. It expresses unity regardless of the geography, culture or religion a person comes from. It can change people for the better just as it can change the flow of life and things both great and small.
© English translation by Inštitút jazykov a vzdelávania (http://www.ijav.sk/)